Better late than never, sorry this wasn't written yesterday, but life got in the way, in a good way! So, Mama M. left the linky open for me, which I am SO grateful to her for. Thank you so much Mama M! You're truly an amazing person!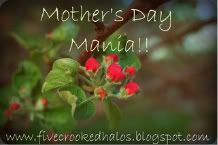 It's the last day of the
Mother's Day Mania
! And of course Mama M. over at
My Little Life
has to get all emotional and such on Mother's Day. This one is going to be especially emotional for me because well, you'll see...Here's the topic: let's write a letter to our firstborn...the one's that made us "mama's" for the first time!
Enjoy your day!
Dear J,
Yesterday was Mother's Day, my 2nd one since you were born. It was much better than last year. Still hard, but better. Today however, you are 17 months old, and I find myself thinking of you every minute of the day today so far. My heart longs to hold you, and kiss you and love on you. I know that is not an option, and I am so grateful for your parents who give you all the love and protection you deserve.
The day you were born was the best and worse day of my life. I never imagined how hard it would be to leave a hospital without your child. But it was even harder to stay in the hospital without my child, knowing that you were not down the hall from me was so hard.
I know you are doing well with your new family, and I have no doubt that I did what was best for you. But that doesn't change the way it hurt. I never imagined the pain.
No matter what anyone tells you, just because I did not plan to get pregnant, and just because I made some bad decisions that led me to having you, I DO NOT REGRET YOU! I hope one day to give you a journal from your first year, so you can understand the true feelings I felt, and the exact circumstances to your conception. I think it's important you know exactly where you came from. I would rather you hear it from me, and nobody else.
I hope one day that we can talk, and you can understand how much I truly loved you! And how much I wanted so much more for you than I could give you at the time. I am so grateful to your parents for stepping in and taking you into their lives and hearts as one of their own. I am so blessed to know that they will love you and take care of you, and I am so blessed to know that you will have a wonderful older brother to look up to and be friends with, and to help you along the way. You are truly loved by so many people, not all children can say that they have 2 sets of families that love them. But just know that your biological family loves you more than you will ever know. It is true that some of them don't know about you, but I can totally tell you that the ones who do love you so much, and if they don't now, then they will once they realize what a great person you will become, and when they can truly understand why I did what I did. The ones who don't know about you only don't know for protection. Not because I was ashamed, but because I didn't want to hurt them more than I had hurt them already. I couldn't bare to put them through this, I had no idea how much this would hurt, but it was the hardest thing I've ever done. But just know that it was the best thing to do.
Please remember that I love you and only wanted what was best for YOU. I never once thought that I'd be able to do the things I've done by putting you up for adoption, YOU were the only one I thought of in making my adoption plan, and you are still the only one I think about when I think about my decision.
Yes, I truly feel I wouldn't be where I am today had I raised you myself, but that doesn't mean I regret having you or giving you to your family. It just means that this is the path that I was able to take, and that it is how I feel. I'm a strong believer in not regretting things, because even if they weren't the best of circumstances, it made me who I am, and your decisions will make you who you are. Don't let your past get in the way of your future. And don't you ever regret anything, because you need to learn from your mistakes, and move forward, and look back on those things, and know that they made you the man you are going to be. I wouldn't be the woman I am if it hadn't been for things I did in my past.
You don't know about this question now, but I'm sure you'll hear it a lot as you get older, it's "if you could go back in time and change anything, would you?" Well, the answer should be NO, if you take one thing I teach or tell you, this should be it. Your past molds you, and makes you the person you are meant to be. God never puts more on you than you can handle, and God never makes you walk alone. God wouldn't let you go through heartache for nothing, and He will always give you your hearts desire. It might not be on your timing, but it will happen. Please know that I love you, pray for you often, think about you daily and wouldn't change a thing about what led me to you.
Love, Your Birth Mother
This is was so hard to write, but once I started it just flowed. It's not meant to make sense to anyone but me, and it's not for anyone but me and my son, but it helped to write it down so much, and I just want to thank Mama M. again for allowing me time to get this done, and link up. I am so thankful for all the great ladies I've met in the blog world, and I am daily humbled by the comments that I get. If I can help ONE person who finds themselves in my shoes, then I've done what I've set out to do. And if I help more, than that's great too! This blog started out as something for me, but I'm trying to turn it into so much more now.